loof751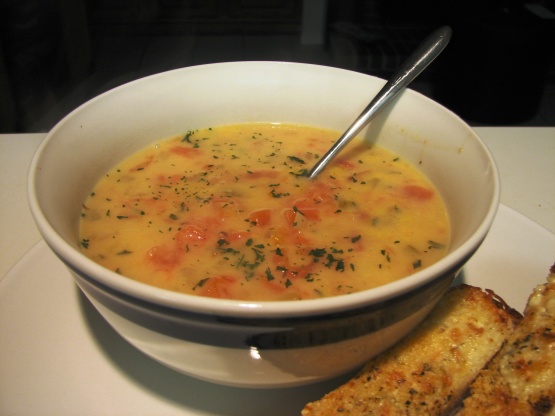 A comforting soup that I like to make on the weekend and enjoy for lunch throughout the week.

This recipe was a great foundation for what I wanted. When I cook something, I like to get as many food groups in there as possible. Here's what I did, and it turned out fantastic.<br/><br/>I doubled everything in the recipe. Added one pound of rotini, which I just cooked on the side. Added grilled chicken, which was seasoned in italian seasoning, and cut up into little pieces. It was about 2 cups of chicken once diced. And since I added more ingredients, I added one more serving of the broth (as in one more of the servings as per the original recipe, so in other words, I tripled the broth recipe). It was amazing! Very hearty!
Combine the first 7 ingredients in a large saucepan. Bring to a boil, reduce heat and simmer until vegetables are tender (approx. 15 min).
Make a double boiler by placing a glass bowl over a pot of simmering water, making sure that the water does not touch the bowl.
Add butter and stir while it melts. Sprinkle in flour, salt, pepper and mustard. Add milk all at once. Stir in Worcestershire sauce and continue stirring until smooth.
Add cheese and stir until cheese has melted and sauce is thick.
Add to vegetables and bring to a boil.
Add parsley and serve piping hot.