Tomato Cabbage (Tomaten Kohl)
RonaNZ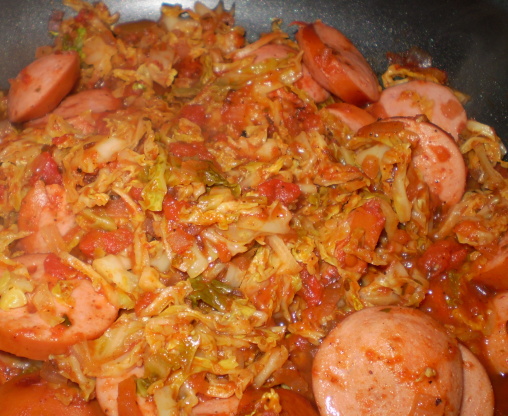 My mother used to make this and she always referred to it as "tomatokraut." It was, and is, one of my favorite side dishes. This usually yields about 3 quarts. To complete the meal, you can slice chunks of kielbasa or knockwurst into this towards the end to heat them through, and serve with plain boiled potatoes. Enjoy!

Made this for a dinner party of 10! Pan was nearly licked clean! My son who said he doesn't usually like cabbage, went for seconds; as did others also! I was cooking ribs as well as 3 other dishes & somehow missed the vinegar and allspice, but I always use garlic and added a few shakes of Italian spice! I also used bacon strips, not just grease! Excellent way to make an inexpensive vegetable a complete hit!
In a 4-quart pot, melt bacon fat and add chopped onions. Saute over low-medium heat until translucent, approximately 5 minutes.
Cut cabbage into one-inch by two-inch strips approximately. I cut the head into quarters, cut out the core, and then slice across the wedge.
Add chopped cabbage into pot, stirring to mix with the onions, adding a little more bacon fat if needed to coat the cabbage.
Sprinkle vinegar over cabbage in pot, then stir in salt, pepper, and caraway seed. Simmer until wilted, about 10 minutes, stirring once or twice.
Add tomatoes and tomato sauce when cabbage has wilted.
Stir in allspice. Adjust seasonings to taste. Sometimes I add a teaspoon or more of sugar to cut any bitter/acidic taste.
Cover and simmer for 30 to 40 minutes. Check after 20 minutes if you like it crisp-tender. I usually cook it 40 to 45 minutes so it's really tender.
For variety, increase the amount of and/or substitute different tomatoes -- crushed tomatoes, tomato puree, or tomato juice/V8. This makes it 'soupier,' and then we just serve it in cereal bowls or rice bowls on the side to enjoy every drop of the liquid!