Bergy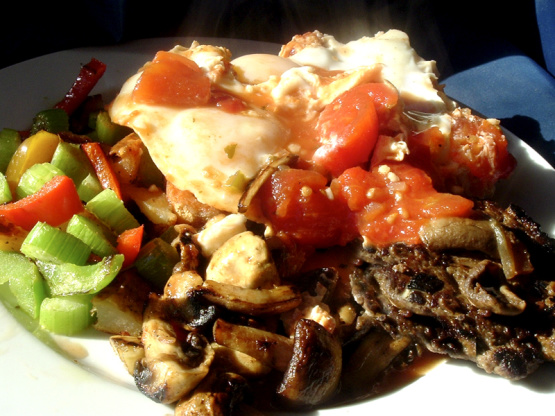 A fast simple and easy dish for breakfast, lunch or dinner.

Tomato and egg. Rich in vitamins and lip smacking good taste! Wish I'd thought of cooking the eggs in the broth a long while ago - it's absolutely brilliant. I served the eggs on some English muffins and spooned some of the broth over them as well. Then tucked in. Definately on my menu again.
Heat oil in skillet, add garlic, cook 3 to 4 minutes then discard the garlic
Add remaining ingredients except eggs.
Slowly bring to a boil then simmer uncovered 7 minutes, stirring occasionally
Break eggs into a cup and gently slide into the sauce.
Cover and simmer 5 to 6 minutes or until eggs are set.