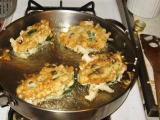 When I'm lazy (frequent occurence) and if I'm going to drink beer throughout the weekend (to endure weekend guests), I often drink Tomato Beer. It also keeps me "regular". Tastes great and won't dehydrate you like straight beer.
Directions
Mix the ice cold beverages and enjoy!
A little ice is optional.
Reviews
Most Helpful
Sipping this as we speak watching football. I often add a squeeze of lime. Thanks for sharing!!! T.J.

Tried this in college years ago. A friend from Wisconsin told us this red beer was how they stayed warm in the winter. Not sure about that, but surprisingly tasty. Best ice cold.

mmmmmmmmmmmmm, Red Beer! Yummy. My dad calls this a Polish Bloody Mary. I always get called a redneck when I order this in a bar, but it's the only way I'll drink beer.