Bayhill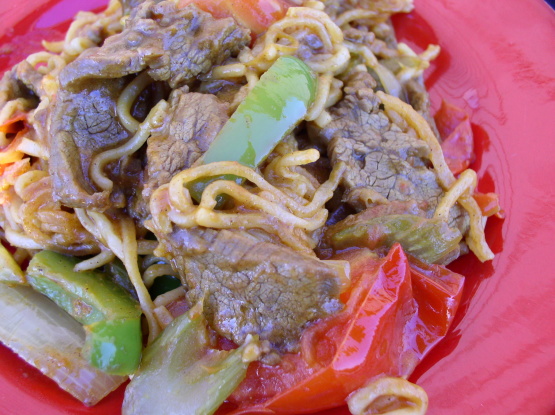 Years ago I took a series of Chinese cooking classes. I lost the recipes that I had acquired there and just recently found them again. Here's one of our favorites. To make the steak easier to slice, take the meat out of the freezer for about 1 1/2 hours before slicing. If it's cut on the diagonal, it will curl during cooking. And as most stir-fries, prepare all of the ingredients ahead of beginning the cooking, as it will go very quickly once started.
This was excellent tomato beef curry! I basically made as written with just a few changes to suit our tastes. First, we love tomato beef curry chow mein, so I boiled and fried some chow mein noodles to add to this. To the meat marinade, I added some fresh garlic and ginger and marinated it for about 45 mins. Also, I added extra curry powder, ketchup, and soy sauce. Lastly, because I was adding chow mein noodles, I added about 1/2 c. beef broth with a little cornstarch added to make extra sauce to compensate for the noodles. We loved it! Thank you for sharing this wonderful recipe...it is definitely a keeper! **Made for Culinary Quest - Suitcase Gourmets**
Marinade

2

teaspoons cornstarch

1

tablespoon soy sauce

1

tablespoon sherry wine

Stir-fry ingredients

1

lb flank steak, sliced very thin

1

onion, cut in wedges, then separated

2

stalks celery, long diagonal slices (optional)

1

bell pepper, quartered, sliced 1/2-inch thick

2

tomatoes, cut in wedges, leave core in

4

tablespoons oil, about

2

tablespoons curry powder, to taste
1⁄2 teaspoon salt

3

tablespoons ketchup, to 4

2

tablespoons soy sauce, to taste
Mix marinade ingredients and marinate the beef slices for about 15 minutes.
Heat 2 tablespoons oil in wok.
Stir-fry onion 1 to 2 minutes in hot oil.
Add celery and bell pepper; stir-fry briefly.
Remove vegetable mixture from wok and reserve.
Heat about another 2 tablespoons oil in wok.
Add curry, beef and salt.
Cook until beef is about 3/4 done.
Add tomatoes, ketchup and the reserved vegetables.
Stir to heat thoroughly.
Add soy sauce to taste.