JustJanS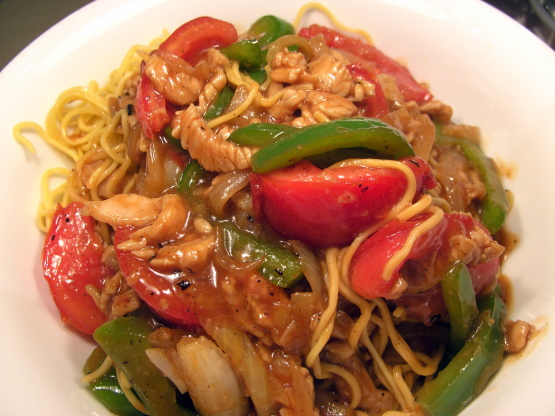 Every year during tomato season my father would drive us to San Francisco's China Town just to get a plate of Tomato Beef Chow Mein. It was only available during the peek of tomato season. This really is does need good tasting tomatoes.
This was very quick.and easy to make. I just thought it was a bit odd to throw out the marinade when it was so very similar to the sauce. So I didn't. I just added some more soy sauce, cornstarch, and the broth. I also tossed in some bean sprouts. Made for Chinese/Vietnamese New Year tag in the Asian forum.
Thinly slice beef. Mix marinade and beef together. Set aside.
Mix sauce ingredients and set aside.
Cook mein noodles in boiling water for 1-3 minutes. They cook fast. Rinse well with cold water and drain. Toss with 1 tablespoon oil so noodles won't stick together. Heat large nonstick skillet, glaze with oil and pan fry 1/4 of the noodles at a time. Put in very low oven to keep warm.
Thinly slice onion and pepper set a side.
Cut tomatoes into 1/2" wide wedges and set aside.
Heat wok. add 1 tablespoon oil, swirl and add onions and peppers. Stir fry 2 minutes, then turn out of pan.
Drain marinade off meat.
Add 1 tablespoon oil to wok, swirl, add meat. After 1 minute, add tomatoes and stir fry w/meat gently.
Return veggies to pan and add sauce. Cook stirring until it boils and thickens. Sauce needs to be thick enough to glazes the noodles with out drowning them.
Pour over noodles and enjoy.