Tomato, Basil, Yogurt Tart
Barb G.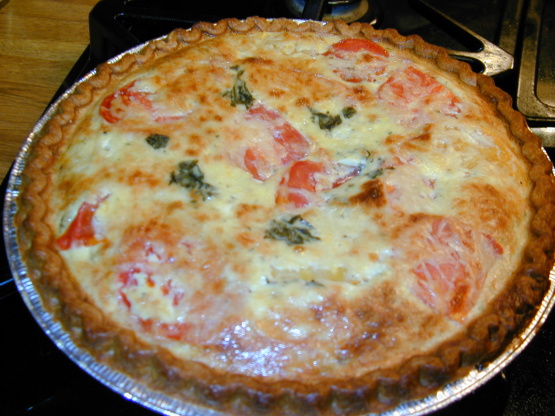 This recipe is made with yogurt instead of milk or cream. With Tomatoes & basil in season this recipe makes a perfect summertime meal. Best served at room temperature, so it is great to bring along on a picnic. Recipe comes from Stonyfield Farm.

Perfect for a huge crop of tomatoes and basil. I used egg beaters instead of eggs and thus reduced the fat, calories and cholesterol and it came out tasty and was easy to put together. Thanks for posting.
Preheat the oven to 375 degrees.
In a large bowl, combine the yogurt, eggs, 1/4 cup basil, black pepper, salt and Parmesan cheese; Beat well.
Place crust into 9" tart pan or pie pan and trim of excess crust from edges, or crimp edges (flute); Bake for 10 to 15 minutes, until a VERY light golden brown.
Pour the mixture into the tart shell, top with tomato pieces,and sliced basil; sprinkle lightly with Parmesan cheese and bake 20-30 minutes or until cooked (the tart should be frim to the touch), Let cool 10 minutes before serving.