HisMonie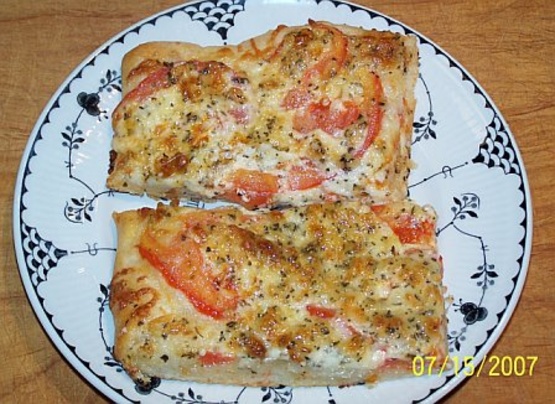 This is one of my favorite Pampered Chef Recipes! I made this for my Aunt's Opera Reception (which was a fancy party), yet it was sooo easy and tasted wonderful! Everyone raved about how good it was... little did they know it just took minutes to throw together! Delicious!!!

These are FANTASTIC! I just tried these at a Pampered Chef party, and when the second batch came out of the oven I burnt my mouth on them because I couldn't wait for them to cool! Absolutely delicious. Thanks for posting this recipe. It was what I've been searching for all afternoon!
Preheat oven to 375 degrees F.
Roll out pizza crust onto a rectangle baking stone (or cookie sheet if you don't have a stone).
Sprinkle crust with one cup Mozzarella cheese.
In a bowl, combine remaining Mozzarella cheese, basil, garlic and mayonnaise.
Mix well.
Place sliced tomatoes on top of pizza crust.
Spread mayonnaise mixture on top of tomatoes.
Top with grated Parmesan cheese.
Bake for 15-20 minutes or until top is golden brown and bubbly.