twissis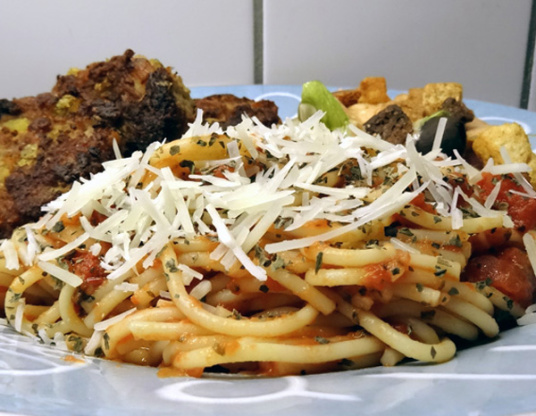 This is a great dish when you have little time to cook but something fulfilling and with great taste. The original recipe calls for 1 lb of spaghetti, but since I like more sauce I decreased the amount to 3/4 lb. It's up to you how much pasta you'd like to use. The sauce comes together quickly and the results are always excellent. Begin the sauce as soon as you turn the pasta water on to boil. It's that fast! Recipe courtesy of Eva Longoria.

Great, easy sauce is right! I was hungry for something quick and hearty, and this did the trick! I used fresh basil snipped from my garden and served over rice noodles to make it gluten free. Thanks for sharing! Veggie Swap 38
Bring a large pot of salted water to boil. Cook the spaghetti to al dente, about 8 minutes or according to your package directions.
Meanwhile, heat the oil in a large skillet over medium heat. Add the onion, garlic, half of the basil and a pinch each of salt and pepper. Cook, stirring occasionally, until translucent - about 5 minutes. Add the tomatoes and the tomato sauce. Bring to a simmer while you break up the tomatoes with the side of a spoon. Simmer gently for about 4 minutes. Season with salt and pepper to taste.
Drain the pasta and put in a large serving bowl. Pour over the sauce and add all but a handful of the left over basil. Toss until the pasta is well coated with sauce. top with the remaining chopped basil, grated cheese and dried red pepper flakes. Enjoy!