aebireri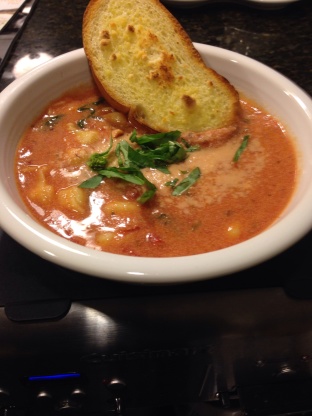 Lovely soup with substance. Literally! Not "brothy" but rich... and probably not heathy either. I won't tell if you won't!

Top Review by Kohtzy
We were really impressed with this soup, and would give it 10 stars if we could. The only change we made was that we used 1 28oz can of crushed tomatoes, so we didn't simmer for as long as the recipe recommended. We only simmered for 15-20 minutes, and it was perfect. Thanks Sandi, for posting such an amazing recipe!
Simmer tomatoes, vegetable/tomato juice and stock in saucepan for 30 minutes.
Remove from heat and puree with the basil leaves using one of those handy dandy immersion blenders right in the cooking pan.
Return to low heat and stir while adding cream and butter.
Sprinkle each serving with grated parmesan and basil leaves. I like to float toasted fresh garlic-parmesan croutons!