PaulaG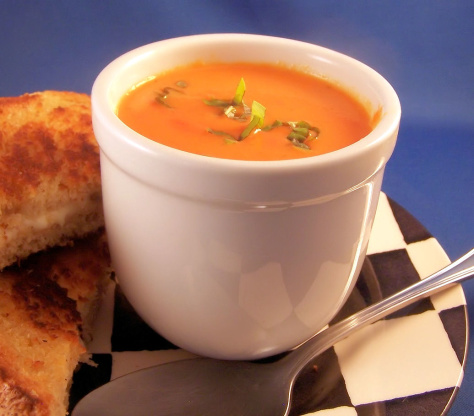 I found this recipe in The Best of Cooking Light 2. We particularly enjoy it in the summer when we get basil fresh from the flower box and local tomatoes at the farmer's market.
Top Review by PaulaG
An outstanding soup and a perfect use of fresh garden tomatoes and basil. I was able to use my Vita-Mix and make fresh tomato juice. The tomatoes were placed into boiling water until the skins split and then plunged into cold water. This makes peeling them very easy. After cooking, everything except for the milk was placed into the Vita-Mix container and processed. The milk was tempered before adding to the hot soup. Served this with grilled cheese sandwiches for a substantial and delicious lunch. Made for *PAC Autumn 2008*
Bring tomato and juice to a boil. Reduce heat and simmer 30 minutes.
Place tomato mixture and basil leaves in blender and puree until smooth. Return to pot and stir in milk, salt and pepper. Add cream cheese, stirring well with a whisk, and cook until thick.
Remaining soup may be refrigerated in a tightly sealed container for up to 1 week.