Pam-I-Am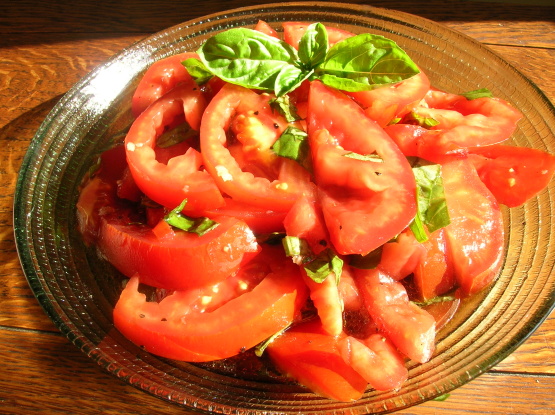 A glut of tomatoes on hand. What could be easier, and made according to your own taste buds too.

The balsamic vinegar is what makes this. I did not marinate for this long as I live in the tropics where we have a good 15-20 degrees on most of the rest of the world. A bit of mozzarella and crusty bread rolls go well with this too.
Cut tomatoes in quarters or eighths, depending on size.
Roughly chop basil and place in glass container.
Add garlic.
Mix together thoroughly balsamic vinegar and olive oil.
(A couple of tbsp of each), and pour over basil-garlic mix.
Season with salt and pepper.
Cover tightly and marinate at room temperature for 6-8 hours.
Do not refrigerate before serving.