Tomato Basil Roasted Chicken
Wafaa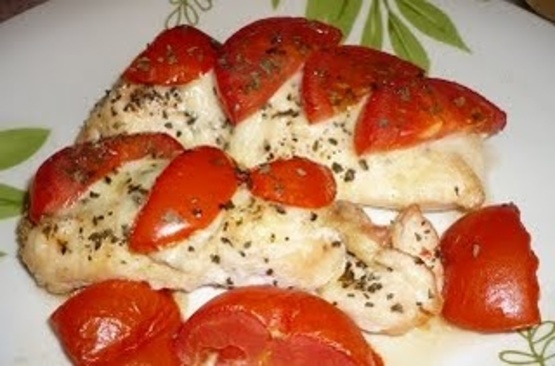 I only had a few ingredients in my fridge, and this recipe came to mind. However, it turned out pretty awesome and very Italian. I found that the cheese and tomatoes on top keep the meat very tender and moist. And the roasted tomatoes, mmmmm. Also, I suggest serving it with some roasted cauliflower.

Probably the most delicious AND easiest dinner recipe I've tried on this site so far! It's simple, fast, easy, doesn't require exotic ingredients (all important for a beginning cook like me) and turns out tasting gourmet. If you want to impress a dinner guest (especially a date) with your amazing cooking skills (without actually having amazing cooking skills), this should be your first choice. Go for the fresh basil though, it's worth the trip to the grocery store and the extra expense to do it right.
Preheat Oven to 350F (175C).
Mix the olive oil, vinegar, garlic, pepper and salt, and rub the chicken breasts with them. You can also let it marinate for a few hours or overnight.
Lay the chicken breasts on a non stick oven pan. Place half of the basil on top of the chicken, then add the cheese on top of that.
Slice the tomato into half moons and layer it on the top. Sprinkle the rest of the basil on.
Place the pan in the oven, uncovered, and bake for 35-45min, until done.