ImPat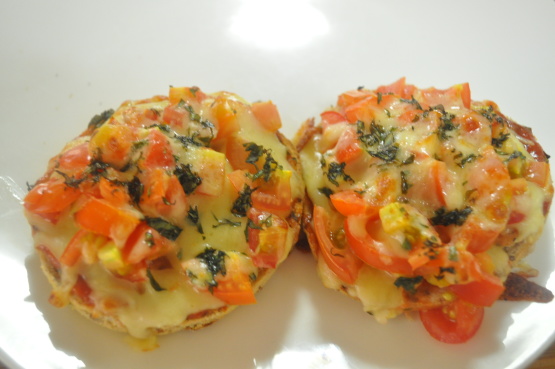 Here is a quick and easy-to-make snack for the kids.

Top Review by ImPat
I used a whole wholegrain muffin split for the DM for her supper but only used the following quantities between the two 3 teaspoons tomato sauce (flavoured with fresh finely chopped sweet basil and garlic paste), 3 tablespoons chopped tomatoes (used baby grape tomatoes) and divided the 5 tablespoons cheese (using a blend of mozzarella and cheddar and parmesan) and put half on the bottom and the other half on top and put under the grill/broiler for about 4 minutes for a delicious pizza that the DM thoroughly enjoyed. Thank You Charlotte J, made for Please Review My Recipe.
Preheat broiler.
Place English muffin on a small baking sheet.
Spread tomato sauce over top of muffin.
Top with cheese.
Sprinkle fresh basil and tomato on top.
Broil until cheese is brown and sauce is bubbly.
Serve immediately.