CIndytc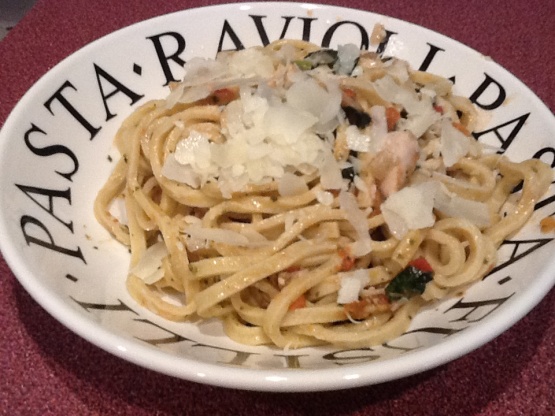 Allrecipes - Basil Chicken over Angel Hair

Made this for PAC Spring 2012 and boy was this a hit with my better half...he says I can make this as much times as I want...I did use fresh liguini that I needed to use up instead of angel hair, otherwise followed recipe...great easy fresh taste..I suspect if you did not have fresh basil some pesto in it would do just fine.
In a large pot of salted boiling water, cook angel hair pasta until it is al dente, about 8 to 10 minutes. Drain, and set aside.
In a large skillet, heat oil over medium-high heat. Saute the onions and garlic. Stir in the tomatoes, chicken, basil, salt and hot pepper sauce. Reduce heat to medium, and cover skillet. Simmer for about 5 minutes, stirring frequently, until mixture is hot and tomatoes are soft.
Toss sauce with hot cooked angel hair pasta to coat. Serve with Parmesan cheese.