Derf2440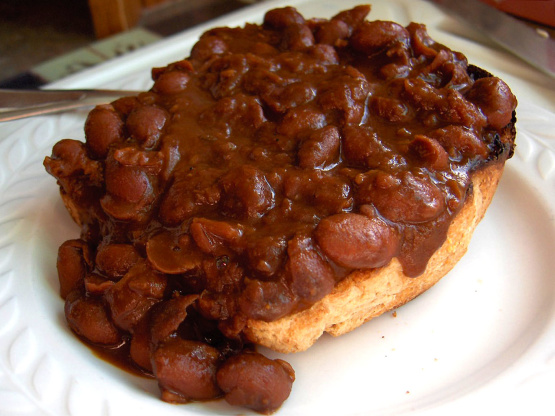 My inspiration for this recipe besides submitting it to RSC #9 was to make another vegetarian baked beans. I think I only found one vegetarian baked beans recipe on this site so I wanted to diversify by creating my own.

First thing order of ingredients are always a pleasant thing on recipes being helpful to follow. I found this very very sweet! Would have enjoyed herbs, garlic a little kick from peppers be it sweet or and hot one. I did start this stove top but found the beans sticking to the bottom and needed to be stirred often so I put it into 325 degree oven for about 4 hours till nice and thick.
Soak the beans in 6 cups of water for 8 hours or overnight. Drain just before beginning to cook.
Finely chop white onion and tomatoes, separately, in a food processor (Make sure the juice has been take out of the tomatoes).
Saute onions in a large pot, with the olive oil until translucent, about 3 minutes. Add tomatoes and saute for 2 minutes longer, adding the salt and pepper in the process.
Add crushed fennel seeds, and peanut butter and let blend until peanut butter melts. Add beans and brown sugar and stir thoroughly.
Add 4 and a half cups of water, and bring it to a boil. Bring it to a simmer and slow cook for 3 hours, covered. Last hour of it can be uncovered to reduce water. Let it cool before serving.