Tomato, Bacon N' Pepper Jack Soup
Diana 2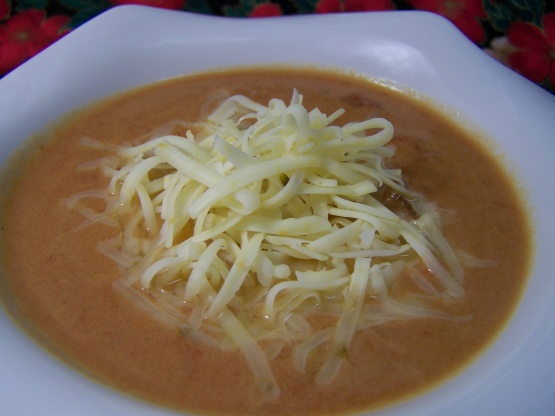 This is a really yummy comfort soup with a zing. Brings together the classic taste of cream of tomato, bacon and grilled cheese all in a soup. The pepperjack is the surprise zing.
1. Blend tomatoes in blender to smooth (or leave larger bits if you like).
2. Place in 2 Qt pan.
3. Add beef boullion paste to taste. I start with 2 teaspoons.
4. Add some milk or half n half.
5. Fry up bacon crisp and crumble it into soup.
6. Heat until ready to boil and turn down to simmer 15-20 minutes.
7. Top with shredded pepperjack when serving.
8. You can add toasted croutons as well, but I didn't want the additional carbs.