Prep 10 mins
Cook 20 mins

This is from the latest issue of Taste of Home's Quick Cooking magazine. I haven't tried it yet, but it sounds like an easy and scrumptious dish!
1 (12 ounce) jar marinated artichoke hearts
1 tablespoon olive oil or 1 tablespoon vegetable oil
2 cups pizza sauce
1 (7 1/4 ounce) jar roasted sweet red peppers, drained and cut into strips
hot cooked fettuccine
Directions
Drain artichoke hearts, reserving 1/4 cup liquid; cut artichokes into quarters.
In a large skillet, brown chicken in oil.
Add pizza sauce, artichokes, red peppers, and reserved artichoke liquid; bring to a boil.
Reduce heat; cover and simmer for 8-10 minutes or until chicken juices run clear.
Serve over fettuccine.
Reviews
Most Helpful
Excellent!! Even my 14 yr. old son enjoyed the chicken and the sauce. Artichokes are grown here in CA, but in my 14 yrs. here, I had not eaten them much. I did have to cook it slightly longer than the recipe called for, but maybe I had larger pieces of chicken. My chicken breasts were about 1/4lb. each.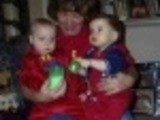 This is a pretty tasty dish, and it's nice that it's so easy to throw together. I added some red wine vinegar to the tomato sauce as I usually do, and put some shredded cheese on top. Thanks for sharing.
This was quick and easy. I did make a few changes... I used chicken I had poached instead of frying it in a pan and I didn't have pizza sauce on hand so I used a jar of marinara. Pretty tasty.