Tomato and Zucchini Cream (Soup)
WiGal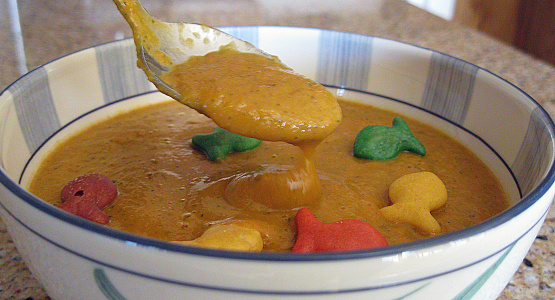 From Qu'est-ce qu'on mange Volume 3. It was very good when I made it a few years ago.

Top Review by WiGal
The smell of this was heavenly, all my favorites here! I did not have enough fresh tomatoes so used 2 cans of diced canned tomatoes instead which I added right before adding the flour. My veggies were done in about 40 minutes. Very good with grandson's goldfish. LOL! Thanks Boomie for sharing.
Melt margarine in a saucepan.
Cook celery, onions, carrots, garlic, zucchini and tomatoes 7 to 10 minutes, without letting them get colors.
Sprinkle flour on veggies.
Add stock and stir well.
Season with basil. Add salt and pepper. Bring to boil.
Reduce heat and let simmer 1 hour.
Reduce in puree in a blender until creamy.
Put back in the saucepan and add milk.
Let simmer 2 to 3 minutes, just to reheat.