Parsley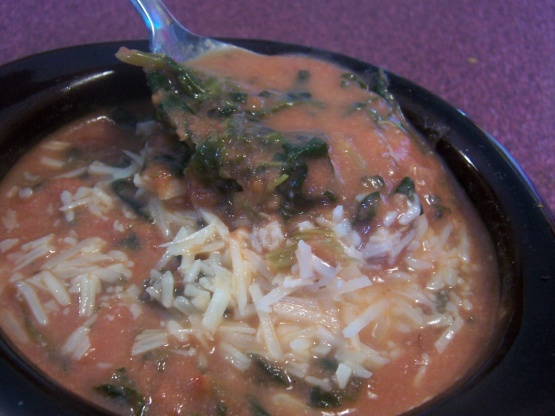 From Bon Appetit, November, 1991.

This is the best tomato soup I have ever eaten. I've made it 4 times for several different people and none of us can ever get enough. If you are looking for the perfect tomato soup look no further. I won't ever use another tomato soup recipe AND it puts together pretty quickly. I only wish I could give it 10 stars. The best recipe I have gotten from this site.
Puree canned tomatoes with juices in processor or blender until smooth.
Melt butter in heavy large saucepan over medium-low heat.
Add onion and sauté until very tender, about 5 minutes.
Stir in tomatoes, sugar and oregano.
Simmer 10 minutes.
Mix in cream, spinach and basil and simmer 3 minutes longer.
Season to taste with salt and pepper.
Thin soup with milk if desired.
Ladle soup into bowls; pass Parmesan separately.