Tomato and Smoked Sausage Casserole
Bergy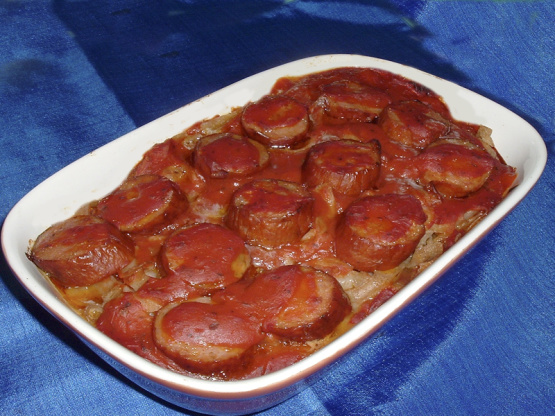 This is a recipe that my Mom made when I was a child, and I LOVE tomatoes! If you are looking for a quick and easy dish, this is the one!

This might be a good dish for kids, but this recipe is so bland as to be unappetizing. "Spicing" it up a bit after the fact didn't help.
1

(14 1/2 ounce) canof red gold diced tomatoes, juice and all

1

(14 1/2 ounce) canof red gold tomato sauce

2

cups egg noodles (I use the no-yolk type)

1

package smoked sausage, cut into bite size pieces
In a mixing bowl, combine the first three ingredients.
Place in buttered baking dish.
Place cut sausage on top of noodles and tomato mixture.
Cut butter or margarine into small pats and dot casserole.
Bake at 350 for 25-30 minutes or until sausage is browned and casserole is bubbly.