Zurie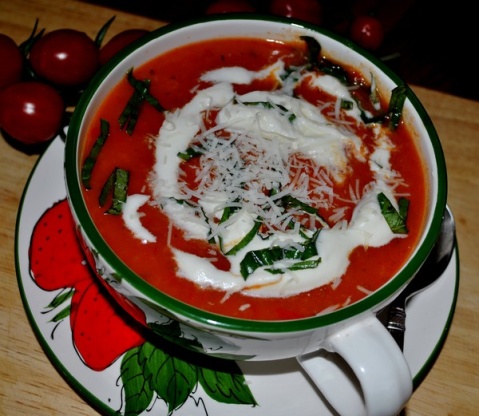 A sharp and tasty soup loaded with flavour thats quick and easy to make.

Top Review by Zurie
MADE FOR PAC, March 2011: This is a lovely soup. The cook's ingredient description of the 1st 3 ingredients is a bit muddled, but it works. I used fewer onions, as I thought the balance would be out if the onions weighed the same as the tomatoes. I may have used more red peppers, because I baked mine at high heat, as I wanted to peel off the skins before using in the soup. So to make up for that shrinkage I used 3 red peppers. Otherwise, all I changed was to use Tabasco instead of pepper, I added a splash of Worcestershire sauce, my soup needed a little more salt, and I added dried basil because I was out of fresh. What can I say? It was a tasty soup, Chef AskCy, thanks!
soften and brown the onions in olive oil.
add the peppers and soften.
add the tomatoes and cook down.
add the garlic, salt, pepper, smoked paprika, sugar and basil leaves and cook in for a few minutes.
Purée with stick blender (saves taking it all out of pan).
then leave on a low simmer for 10 minutes.
add double cream and stir in --
serve topped with a swirl of cream, spinkle of black pepper, a little finely chopped basil and parmegano -- .