Jubes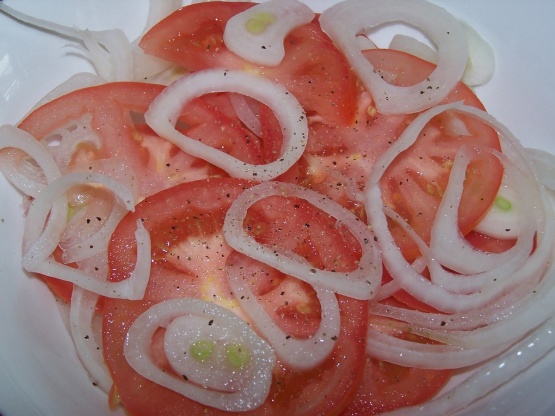 I always remember my Mum serving this salad. It's a good old Aussie favourite. My husband has also said his mother made it. The quantities don't really matter, just make to your pleasing. This is a really plain salad and you must be a vinegar fan to enjoy it

I'm afraid that once I tasted this salad, all I wanted to do was add things to it. Firstly, I added a drizzle of extra-virgin olive oil - all that vinegar and no oil to balance it. Then, I sprinkled some chopped herbs over it. Picked some basil and oregano from the garden and added that. On its own, it was just too plain, but something you can work off and add to.
Arrange the tomatoes and onion in a bowl and pour over the vinegar.
Season with salt and pepper.
Leave to stand for at least 15 minutes before serving.