Tomato and Olive Stuffed Portobello Caps
jenne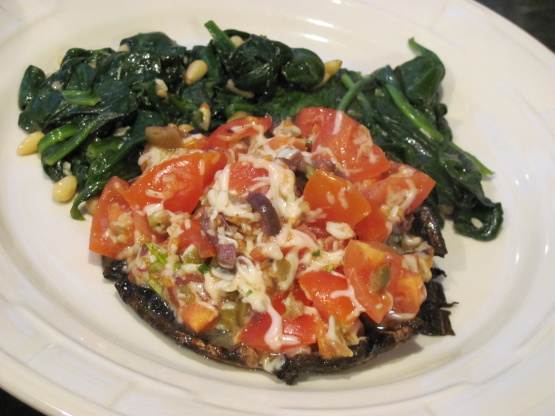 Per Eating Well, "Portobello caps make excellent mini casseroles. Here, they hold a tomato, cheese and olive stuffing that grills up to a smoky perfection. Serve them with whole-wheat couscous and a mixed green salad for an easy meal." This is a low calorie, vegetarian main dish. NOTE: after having made this delicious dish, I have made a couple changes to the original recipe. I served mine atop spinach.
Combine tomatoes, cheese, olives, garlic, 1 teaspoon oil, rosemary and pepper in a small bowl.
Preheat grill to medium.
Discard mushroom stems. Remove brown gills from the undersides of the caps using a grapefruit spoon; discard gills.
Brush the remaining 1 teaspoon oil over both sides of the caps.
Oil a grill rack or grill pan. Place the caps on the rack, stem sides down, cover and grill until soft, about 3-5 minutes per side (depending on the thickness of the mushroom).
Remove from the grill and fill with the tomato mixture. Return to the grill, cover, and cook until the cheese is melted, about 3 minutes more.