Tomato and Mushroom Pasta
mosma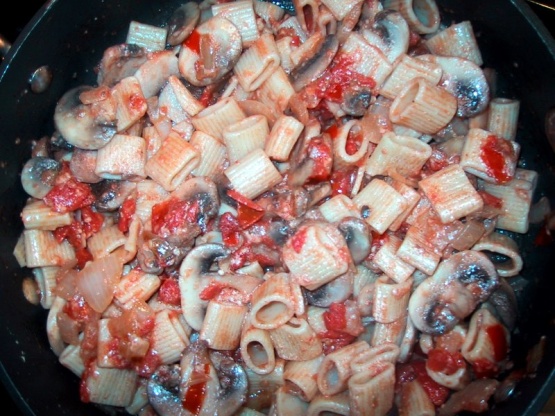 I have been making different versions of this recipe since I was in high school. It is one of my favorite quick meals and I make it about once a week, usually as a quick lunch. Canned mushrooms will work in place of the fresh, but please, use real butter, it gives it tons of flavor. Chopped chicken is a good addition to make it a whole dinner.
Cook pasta according to directions on package.
In a medium skillet, heat olive oil over medium heat.
Add onions to skillet and saute 3-4 minutes, stirring occasionally, until onions are softening.
Add mushrooms, tomatoes, 1 tablespoon butter, and soy sauce to skillet.
Cook, stirring occasionally, for about 8-10 minutes or until tomatoes are beginning to fall apart.
When pasta is done cooking, drain and toss with remaining 2 tablespoons butter until coated.
Stir in tomato-mushroom mixture and parmesan.
Serve immediately.