JustJanS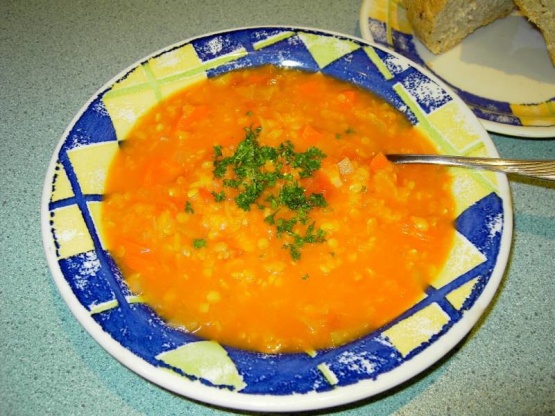 I made this at work this morning (x 8 times this recipe!) so I've borrowed the book to copy it and a few more out I'm interested in.

This was a great healthy n filling soup. I replaced the tomato juice with tomato passata as that is what I had on hand. Otherwise made as directed with great results..thanks for sharing!
Heat the oil in a large saucepan over medium heat.
Add the leek, carrot, onion and garlic, cover and cook for 4-5 minutes or stirring frequently until the leek and onion are a little softened.
Rinse and drain the lentils, picking them over for any foreign matter.
Add the lentils to the pan and stir in the waster, juice and tomatoes, Add the cumin, coriander, bayleaf and a large pinch of salt.
Bring to the boil and reduce the heat to a simmer and cook for about 45 minutes, or until the vegetables are tender.
you can now puree the soup if you prefer it smoother or leave it as it is.
Season well with salt and pepper before serving.
Garnish each serving with a sprinkling of fresh parsley.