Tomato and Fresh Mozzarella Salad With Basil
ChefLee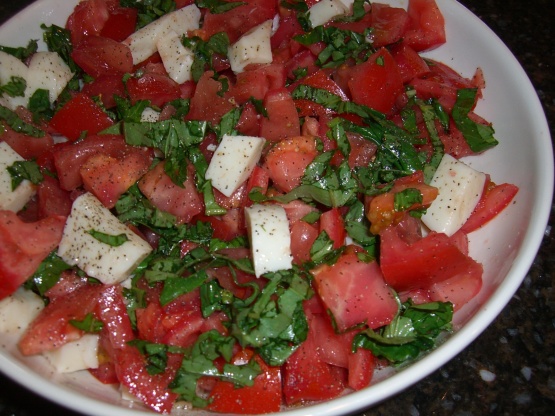 We are buying tomatoes this summer in huge amounts so this is what we are eating pretty much every day. This is the base version, but I also sometimes throw avocado or green onion in. You can do pretty much anything you want with this. It's sooo easy. The amounts are just approximates - it will vary by taste.

This is one of my own recipes. I have been making it for years. I use fresh ground pepper and fresh ground sea salt in mine, but it is the same. I do not use balsamic. It is perfect with out it and it is absolutely one of my favorite things! Love it!
Take the skin off the tomatoes - a huge difference. If the skin is tough to come off, I cut the skin slightly and pour hot water over them and keep the tomatoes covered for a couple of minutes.
Slice or cut the tomatoes in as big pieces as you like them.
Cut the mozarella into small cubes (1/4 inch).
Mix the tomatoes, mozarella, basill and season it with salt and pepper.
Drizzle with olive oil.