Tomato and Fennel Casserole
Derf2440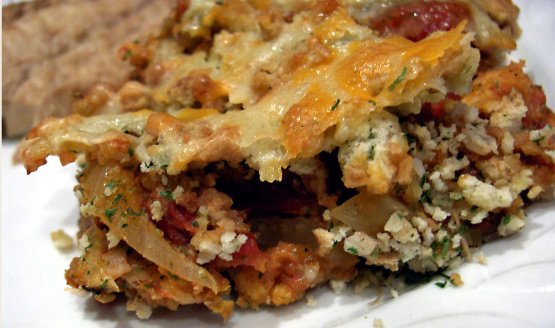 I threw this together for supper using some leftover fennel from the night before. We had wrapped up a fennel bulb with a pat of butter in some tin foil and thrown it on the grill with whatever meat we were cooking that night. That was a good side on it's own but this is the recipe I developed using the leftover half fennel bulb. I suppose you could get the same results by sauteing chopped fennel in some butter until it's limp. I think slices of boiled egg would be good in this recipe, too. As far as the cheese goes, the real thing would be best but I was trying to be semi-healthy so I used a combination of regular and light.

Excellant side dish! We loved it and it has a nice bite to make it interesting. I had to use panco breadcrumbs but it seemed to work ok. I used olive oil instead of butter and chunky garlic tomatoes. Thanks for sharing a good one we will be making it again. — May 23, 2005 — May 25, 2005 me again, this is one of our favourite veggie casseroles, I used stewed tomatoes this time and for the extra sharp cheese a white cheddar, it was delicious. Thanks again!
Use a small, shallow stovetop to oven vessel with lid for this.Cook fennel in butter until tender.
Add jalapeno, garlic and celery and cook until tender.
Add tomatoes and season with chicken broth concentrate and salt and pepper.
Cover and simmer 30 minutes.
Remove from heat and stir in 2% cheese and half of the breadcrumbs.
Top with remaining breadcrumbs, cheese and crumbled Ritz and cook uncovered 350 degress for 20 minutes.
You might want to spritz it with cooking spray or drizzle some oil over breadcrumbs and crackers to keep from browning too much.