Tomato and Cucumber Salad With Feta and Honey Mustard Dressing
PaulaG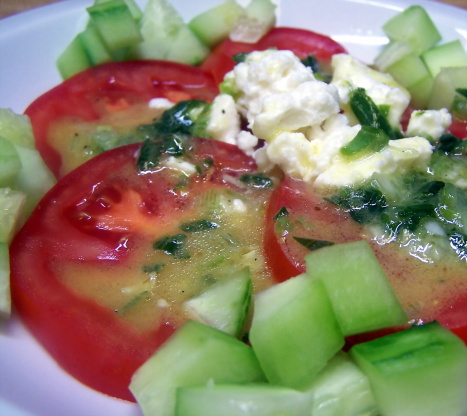 I make this quite when my garden is overflowing with large ripe juicy tomatoes and with cucumbers. This is an easy and simple side dish with lots of flavor. Serve on a large serving plate with the chopped cucumbers around the tomatoes. If possible try to make up the dressing well in advance and chill until ready to use, it can even be made up a day ahead. You will love this!
To make the dressing: combine oil, vinegar, honey mustard and black pepper to taste; whisk until smooth.
Add in the green onions and mix to combine.
Chill until ready to use.
To serve: stack the tomato slices, then top with feta cheese.
Shake the dressing and drizzle amount desired over the tomatoes (and the cucumbers if desired).
*NOTE* if desired stack tomatoes, then feta cheese in the middle, then top with more tomato slices, making certain to finish with feta cheese on top.