Tomato and Cream Pasta Sauce
loof751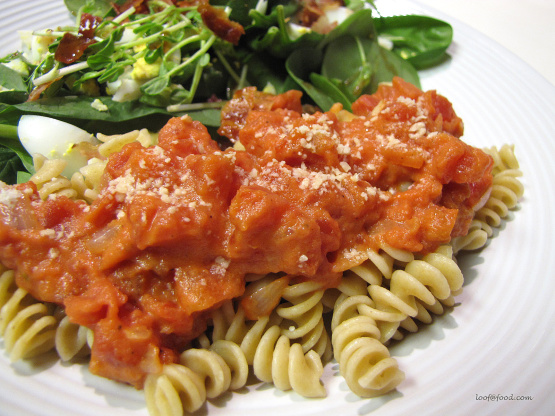 Who says pasta sauce has to take a long time to make or involve a lot of ingredients? I made this to be a compromise between my husband's love of red sauces and my love of white sauces. I also wanted something that was not as fattening as white sauces tend to be. Don't get me wrong, with the use of real butter and cream there is still plenty of fat. But hey, what can I say? I am just that kinda girl. I think this sauce could be adaptable to have more veggies in it (mushrooms, artichokes) and even some meat if desired. Amount of servings is an estimate. I don't like a lot of sauce, but my husband likes to drown his pasta.

This is a simple to make and delicious pasta sauce! Very fresh tasting and quick to make with pantry staple ingredients. I used the minimum amount of cream, no butter, and served over whole-wheat pasta. Thanks for sharing your recipe! Made for Spring Pick-A-Chef 2012
In 10 to 12 in skillet melt butter and add olive oil.
Add onion and garlic and cook on medium heat for 2 to 3 minutes.
Add tomatoes with their juices to the skillet and heat to a low boil for about 7 minutes.
Reduce heat and stir in cream until heated through. 1/4 cup if you like a very light sauce or 1/2 cup if you like it more creamy.
Salt and pepper to taste.
Serve over your favorite pasta and top with the shredded cheese blend.