VickyJ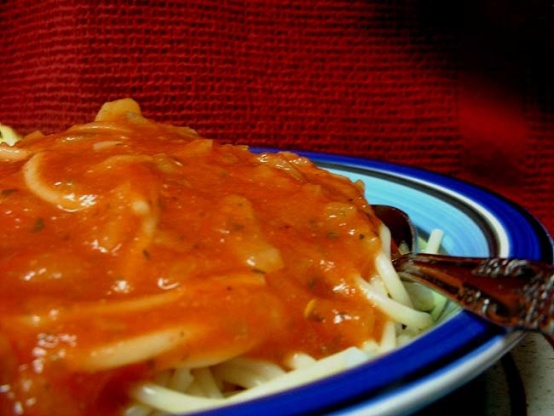 This goes well with veal, chicken or pasta.

Top Review by VickyJ
Hello! Thank you for a great sauce! I just made a couple of minor changes. I didn't have fresh basil, so I used dried. Before adding the onion, I used my stick blender make the rest of the ingredients less chunky, but I love the bits of onion. Other than that I made the recipe exactly. It was very tasty with just the right balance of spice/sweet. :)
Sauté onion in stock until soft, not brown, add garlic.
Place crushed tomatoes in a saucepan with tomato paste, add brown sugar and pepper and simmer for 25 minutes on low heat.
Add torn fresh basil leaves at the end of cooking time (to keep their colour).