Tomato and Basil Orzo Salad
Obag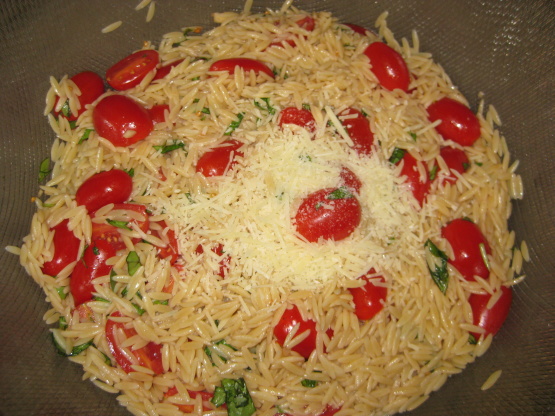 This is from sunset. Posting for safe keeping Times are approximate Notes: Serve this warm salad as a main dish for a light lunch or as a dinner companion to grilled steak, chicken, or fish.
In a 3- to 4-quart pan over high heat, bring 1 1/2 to 2 quarts water to a boil. Add orzo and cook until barely tender to bite, 8 to 10 minutes.
Meanwhile, rinse and core tomatoes; chop and place in a large bowl. Add basil, garlic, olive oil, and vinegar; mix gently.
Drain pasta well and add to tomato mixture. Mix, adding parmesan cheese, salt, and pepper to taste.