Tomato and Basil Bruschetta (Julie and Julia Style)
teresas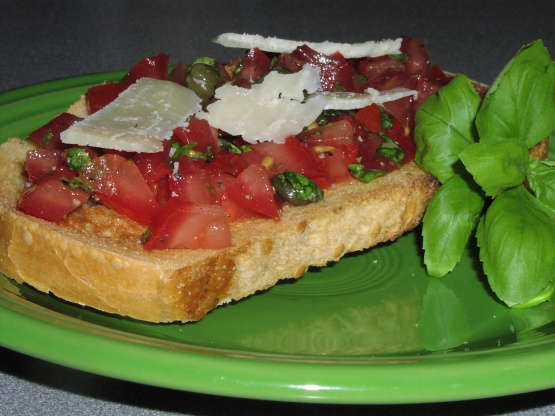 The movie Julie and Julia has certainly revived this classic appetizer. The key to success with is recipe is to use the freshest and best quality ingredients available.
Yummy!! I used some cilantro and basil mixed together and cheddar cheese instead of pram and it was amazing!!!!
Mix tomatoes and basil together and season with salt and pepper.
Set aside.
Fry Bread: Heat 2 tablespoons olive oil in frying pan and fry bread until golden brown on both side.
Remove and drain on paper towel.
Rub one side with garlic clove.
OR.
Toast Bread In Oven:.
Place bread on baking sheet and broil until golden brown on both sides; 12-15 minutes.
Rub one side with garlic clove and brush with olive oil.
Drain the tomato-basil mixture of excess liquid and spoon on to each slice of bread.
Top with parmesan cheese and serve immediately.