pablita2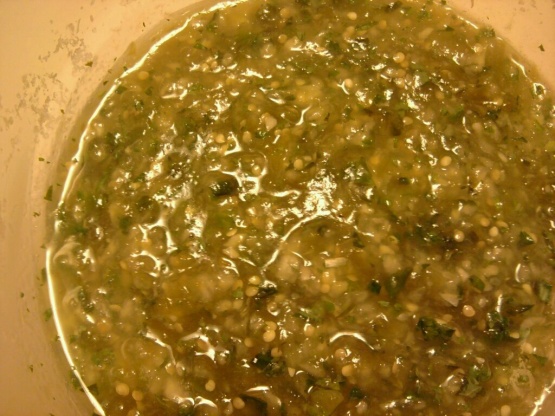 From Rick Bayless, 'Authentic Mexican.' There's nothing like a good, fresh tomatillo sauce! Great on grilled chicken! If you want a really hot salsa, don't seed the jalapenos!

I used fresh tomatillos but did not add a jalapeno as loved the taste without it. I am sure it is delicious WITH the jalapeno. I used your sauce in place of a can of green chilies, adding a 1/4 cup to the recipe I was making. Absolutely delicious! We even used the sauce as a topping with sour cream after the dish was baked. I have really just discovered tomatillos (grew some plants this summer) and can't believe what I have been missing. Love how easy your recipe is to make and will be making lots of your sauce in the future. Thank you for posting. M.Joan
6

tomatillos, husked and rinsed or 1 (13 ounce) can tomatillos

1

jalapeno, seeded and chopped

6

sprigs cilantro, chopped
1⁄2 small white onion, chopped
1⁄2 teaspoon salt
1⁄4 cup water
If using fresh tomatillos, boil in salted water to cover until JUST tender, about 8-10 minutes. Drain. For canned ones, just drain them.
Place the tomatillos, cilantro, and onion in a blender or processor. Blend until coarsely pureed.
Put in a bowl, and add 1/4 cup water or until it has reached a sauce-like consistency. Add salt, and let stand 30 minutes before using.