Tomatillo or Green Tomato Apple Salsa
Rita1652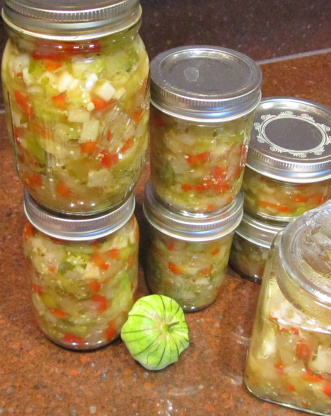 Spicy hot fruity salsa is refreshingly crunchy, tart from the Granny Smiths, lime, and apple cider vinegar. Can't get tomatillos use green tomatoes.
1419.54

ml diced tomatillos (2 pounds) or 1419.54 ml diced green tomatoes

2

large granny smith apples, 3 cups diced

1

small onion, diced

1

large red pepper, 1 1/4 cups diced

177.44

ml apple cider vinegar

1-2

fresh habaneros or 4-6 fresh jalapenos, minced

78.07

ml cilantro, chopped

59.14

ml sugar

2.46-4.92

ml cumin

4.92

ml pickling salt

1

lime, zest, meat chopped, pith discarded

2-3

garlic cloves, minced

2.46

ml black onion seeds, Nigella Sativa
fresh cracked black pepper, 10 turns
pickling lime (crisp granules 1/8 teaspoon per pint calcium chloride) (optional)
Prepare jars for canning.
In a large pot combine all ingredients except for the granules.
bring to a boil and simmer uncovered for 15 minutes.
Place 1/8 teaspoon of the granules in each pint if using.
Ladle into hot sterlized jars leaving 1/2 inch head space.
Wipe rims and top with lids.
Process for 10 minutes in a hot water bath covered by at least 1 inch of water.
Remove jars a leave in a draft free spot for 24 hours.
Lable and store in a pantry fo up to 1 year.