Syrinx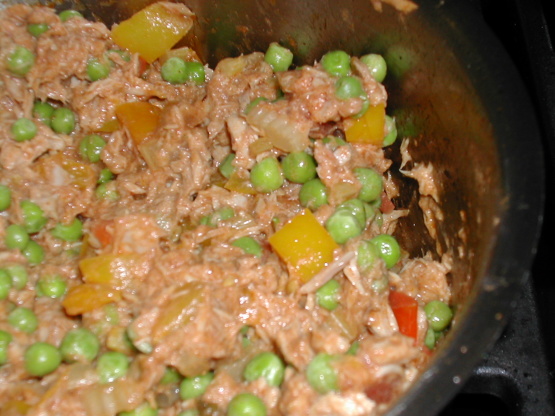 This isn't exactly an authentic recipe, but what's a girl to do when there's not much in the larder and people are clamouring for their dinner?! I bought a jar of tom yum paste, and was desperate to try it out. I know it's meant to be used for soup, but we didn't fancy soup at the time, so it it became the guest of honour in a tuna casserole sort of thing. And very nice it was, too! Serve this Tom Yum Tuna stirred through rice or noodles - and if there are any leftovers, you can always dilute them with vegetable stock and make soup :-)
1

teaspoon olive oil

5

stalks celery, trimmed (ribs)

1

yellow pepper, deseeded

2

tomatoes

2 -3

tablespoons tom yum paste

13

ounces tuna, drained weight (2 standard medium cans - 370g)

1

cup frozen petits pois
Finely chop the celery and yellow pepper, and soften in the oil (about 10 minutes).
Chop the tomatoes and add them to the pan with the tom yum paste (use more or less tom yum paste, depending on how strong you want the dish to be, and how strong your paste is). Cook for a couple of minutes.
Stir in the tuna and the petits pois, and heat through.