Tom Yum (spicy Thai Soup)
Jane Gib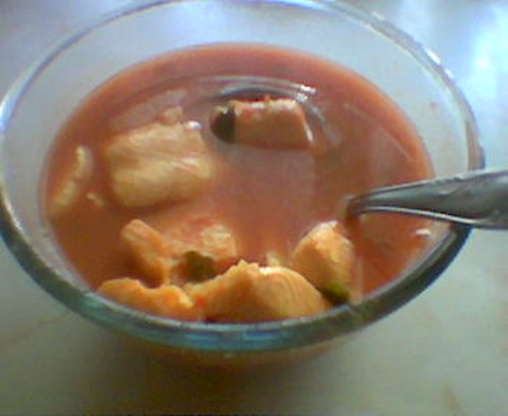 I received this recipe from Nussara Boonkungwan who prepared it for a Thai cooking demonstration on 6-11-99 at ESKing Village at NCSU. She is a great cook and I enjoyed this very much!

Not quite what I was expecting
Pour water into medium saucepan and place over high head on stove; bring to boil and add Kaffir lime leaves & lemon grass; cook for 2 minutes.
Reduce to low heat, add fish sauce, lime juice, fresh ground red chili, and chili paste in soy bean oil.
Add mushrooms & tomatoes; cook for several minutes.
Add shrimp or chicken.
Turn heat to high, do not stir.
When shrimp or chicken is cooked, continue to cook for 2 minutes more.
Serve with hot rice.