Tea Girl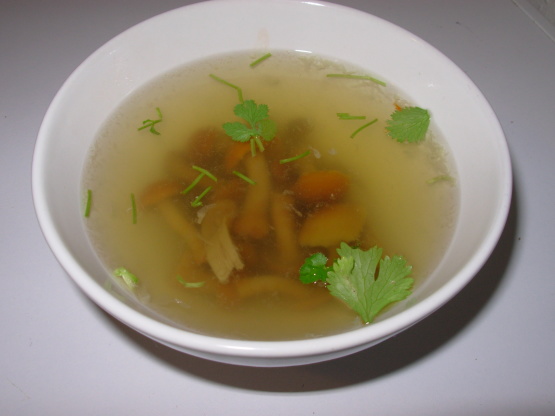 After eating at one of my favorite Thai restaurants one evening, I asked if the chef would mind sharing the ingredients to a soup I enjoyed. To my happiness, he did so, and then I came home to learn more about this soup online. I have not yet made this soup, but look forward to doing so. I found this recipe on www.thaitable.com and it sounds perfect. I'd love to hear any suggestions! If it's made properly, it should be hot, so be forewarned. It would be great for colds and stuffy noses :-)
Wash mushrooms and set aside.
Crush lemongrass with back of knife to release flavor. Tie in a knot and drop into pot of water.
Bring water to a boil.
Add mushrooms.
Pull kaffir lime leaves from their stems and place in water. If using lime zest instead, add it.
Turn off heat on stove.
Crush chili peppers and place into a serving bowl. This will make the dish very spicy. If you don't want as much heat, don't crush the peppers, or only crush one. (If you prefer, omit the peppers entirely and use bottled chili sauce).
Add fish sauce and juice from limes into bowl.
Pour lemongrass broth into serving bowl.
Taste, adjust fish sauce and lime if needed.
Serve, sprinkled with cilantro.