Linky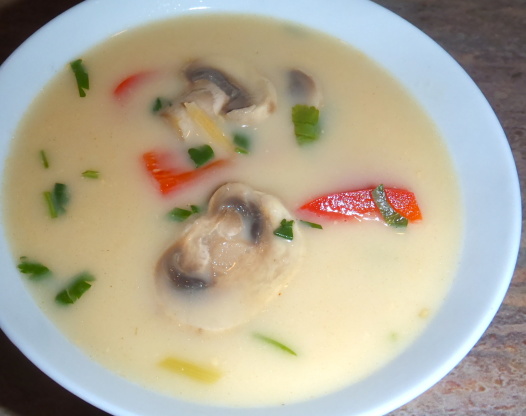 Swanson makes a Thai Ginger infused broth in a 1 quart carton. It's already seasoned so I used it as a base and adjusted my original Tom Kha Kai soup... If you like extra heat, add some hot pepper - a few tiny thai peppers or whatever you have available. For my midwest taste, it's plenty spicy as is. Also, I used powdered kaffir lime and ground galangal and dried lemongrass b/c the fresh are not always available. Obviously, fresh is more authentic! Also can sub. fresh ginger for the galangal in a pinch.

Top Review by awalde
Tom Kah Kai is one of our favorite soups and we really have this several times per year. The recipe I reviewed is a light version, posted by Linky, in which most of the ingredients are dry and for this reason it is almost a ready made version. For my recipes with fresh herbs I keep the herbs in the freezer, but if they are not available, you will be more than happy with this recipe which makes the almost impossible to possible. For this recipe I replaced the ground kaffir lime leaf by one lime peel in the soup and discarding it before serving. I used a small tin canned mushrooms, for the broth I used "normal" broth where added 3 very thin slices ginger. Suggestion: place lemon grass in an empty tea bag while cooking for easy removing. Thanks a lot Linky for this great soup!
Bring broth to a boil, add chicken.
While chicken is cooking, cut up peppers, mushrooms and onions.
Add veggies to soup and simmer about 5 minutes, until mushrooms are done.
Add coconut milk and seasonings.
Simmer about 5 minutes more.
Add lime juice, garnish with cilantro.
Fresh lemongrass, galangal and kaffir lime leaves would be great if available. If so, add with veggies.