Toll House Streusel Muffins
alligirl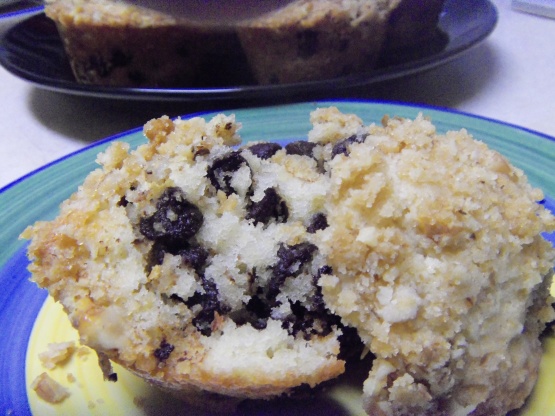 From the Nestle Chocolate website. When you need that chocolate fix but want more than just a chocolate chip cookie then these may do the trick. I printed this recipe off in 1999 - and I remember my choco-holic daughter just loving these muffins. Unfortunately time and my unorganized printed out recipe collection has not allowed me to make these in a while but that will all change now.

These suckers are FULL of chocolate chips! Dang! And they are fab, of course! Made for a late brunch, they were everything I hope for! I used walnuts, as they were on hand, tho I would definitely try with pecans (my fave!) They have been shared and will be made and shared again! Thank YOU for sharing, HokiesLady!
For muffins: combine the flour, sugar, brown sugar, baking powder and salt in a large bowl.
Stir in butter, milk and egg just until moistened.
Stir in chocolate chips.
Spoon batter into 12 greased or lined muffin cups.
For streusel: combine brown sugar, flour and butter in a small bowl then stir in nuts.
Sprinkle generously over muffin batter and press down lightly to adhere.
Bake at 350F for 20-25 minutes or until pick comes out clean from center of muffin.
Let cool in pan for 15 minutes before removing to a wire rack to cool completely.