Toll House Cake (Layer Cake or Bundt Cake - You Pick)
alligirl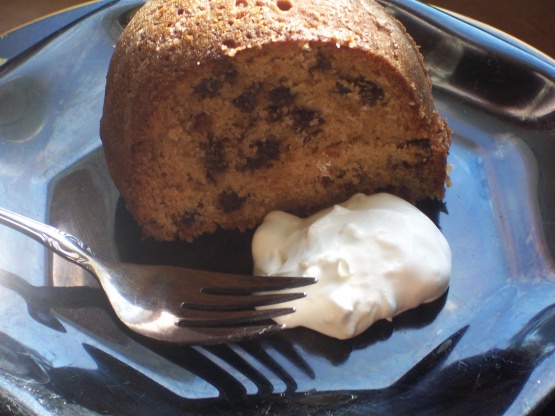 You'll love this delicious chocolate chip cake from Toll House. It can be made as a layer cake or a Bundt cake. Both are great! I found it in an old Better Homes and Gardens recipe booklet from the late 70's. It is different from all the other recipes I've found. It's a yellow cake with chocolate chips and creamy, delicious, chocolate buttercream icing! Be sure to use the mini-morsels because the regular ones will sink down to the bottom. If you just need a rich, chocolatey buttercream frosting, I have also posted the frosting separately. It is Rich and Creamy Chocolate Frosting from Toll House.

Wonderfully moist cake and flavorful cake! I did the layer method and only cooked for about 32 minutes. I did find the frosting slightly too sweet so added about 1/4 cup of cocoa powder and a dash more of milk in the end. Everyone raved about this one!
Preheat oven to 350 degrees Fahrenheit.
Grease and flour two 8 or 9 inch pans or one 10 inch Bundt pan.
In a small bowl, combine flour, soda and salt.
In large bowl, combine butter, brown sugar and vanilla. Beat until creamy.
Add eggs, one at a time, beating well after each addition.
Alternately beat in flour mixture and milk.
Stir in mini-morsels.
Pour into prepared pans.
Bake 35 minutes for layers or 45 minutes for Bundt cake.
NOTE- DO NOT test for doneness by piercing cake because it may deflate if you do.
Cool 15 minutes in pans.
Remove from pans and cool completely on wire racks.
FROSTING:.
In small saucepan, melt butter.
Stir in mini-morsels until melted.
Add salt and vanilla.
Gradually beat in confectioner's sugar and milk until creamy and fluffy. I beat this for at least 10 minutes. The longer you beat it, the better is tastes.
Makes enough to fill and frost 2 layers (about 2 1/4 cups of frosting).