Tofu Simmered in Hoisin Sauce by Deborah Madison
MsPia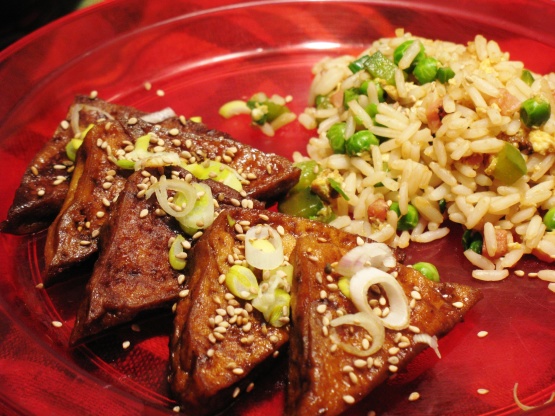 Entered for safe-keeping, asking my vegetarian friends to review this for me. From "This Can't Be Tofu!" by Deborah Madison. Because hoisin sauce is very sweet, dice the tofu very small and serve it as a sauce over rice, with stir-fried spinach, green beans or broccoli on the side. For interesting presentation, cut the tofu into triangles, brown them briefly in a little oil, and add them to the sauce. Per Ms. Madison, soft tofu packed in water has the best flavor and texture, both of which are more pronounced if tofu is not browned. If you enjoy the pure flavor of soft tofu, heat the sauce with the tofu in it until it is just warmed through; if it reduces too much, add more water or stock to thin it out. Serves 2 as a main course, or 4 as an accent sauce.
If using soft tofu, it is easier to crumble it and heat it up as part of the sauce in step 5.
If using hard tofu, drain it, wrap it in a towel and press while assembling the ingredients for the sauce. Slice it crosswise to a scant 1/2 inch thick, then into triangles. Blot with paper toweling.
Heat a nonstick skillet, brush with 2 teaspoons of peanut oil, then add the cut up hard tofu. Fry over medium-high heat until golden, then turn, adding another 2 teaspoons of peanut oil, and browning the other side.
Combine the hoisin sauce, soy sauce, rice wine (or sherry), garlic, pepper and remaining 1 teaspoon of peanut oil.
Stir in the water or stock, then pour the mixture over the tofu and shuffle the pan back and forth to distribute it evenly.
Cook over medium heat until bubbling and slightly reduced, about 2 minutes.
Garnish with sesame seeds and sliced scallions.