digifoo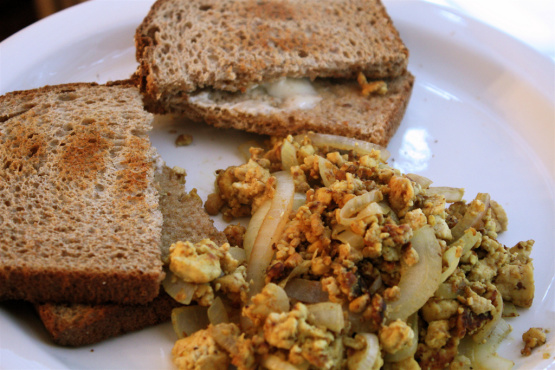 A recipe by Julie Hasson on

This recipe turned out to be really tasty and I'd highly recommend people to try it. Since going vegan I've missed my Sunday morning scrambled egg on toast so I decided to try a scrambled tofu recipe. I picked this one as it was simple but not plain plus I had all the ingredients and I love mushrooms but I really wasn't sure what to expect. I needn't have worried because this recipe was REALLY LOVELY. I did use spring onions (scallions) instead of onion simply because that's what I had but other than that I didn't change anything. This recipe will definitely become a regular.
Use a paper towel to pat dry the tofu.
In a skillet over medium-high, heat a little olive oil. Crumble the tofu into the pan. Cook tofu, stirring, until tofu has lost water and begins to turn a light golden brown color.
Add yeast and granulated onion to the cooking tofu and stir to coat.
Add 2 teaspoons of olive oil, sliced onion, mushrooms and garlic. Continue stirring and cook until mushrooms are tender. Sprinkle with white pepper and soy sauce (or Braggs). Once soy sauce is warmed and absorbed, serve.