-Sylvie-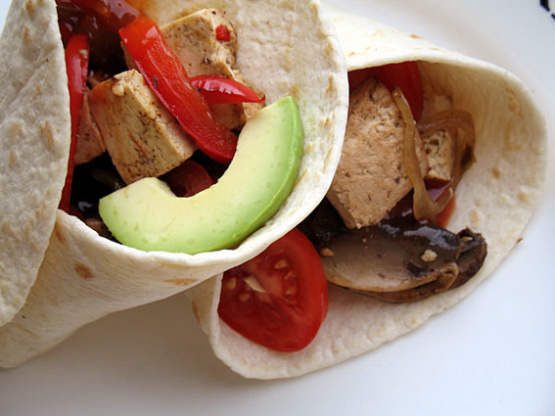 Thanks to Dr. Weil for this recipe. For a quick and exciting meal, this healthful version of a popular Mexican dish is hard to beat. The baked tofu neatly replaces beef and, along with olive oil, provides good fat. Nonfat whole-wheat tortillas make very good fajitas. They have none of the hydrogenated fat of conventional white-flour tortillas and give you some fiber.

I had never eaten baked tofu before - it was great in this recipe. I used an 8 ounce package of savory flavored tofu and garnished the tortillas with non-fat plain yogurt, tomatoes, avocados and green onions. This recipe goes together in a snap and was well received by my family!
2

tablespoons extra virgin olive oil

1

large onion, sliced

1

red bell pepper, seeded and julienned

1

green pepper, such as ancho,anaheim,or bell,seeded and julienned

1

hot pepper, such as jalapeno or serrano,seeded and minced

1

cup sliced mushrooms, such as crimini or portobello

2

cups sliced pressed baked tofu (preferably savory or hickory-smoked flavor)

6

nonfat whole wheat tortillas, warmed

GARNISH

low-fat sour cream (optional)
chopped fresh tomato
Heat the olive oil in a large skillet over medium-high heat, and then add the onions.
Sauté, stirring, until the onions are translucent.
Stir in the peppers and mushrooms and sauté until the vegetables begin to soften, about 5 minutes.
Add the tofu and stir-fry for 5 minutes more.
Season with salt to taste and serve in the tortillas.
Top the fajitas with low-fat sour cream, salsa, chopped fresh tomatoes, avocado, scallions, or a combination of these.