SAHS7930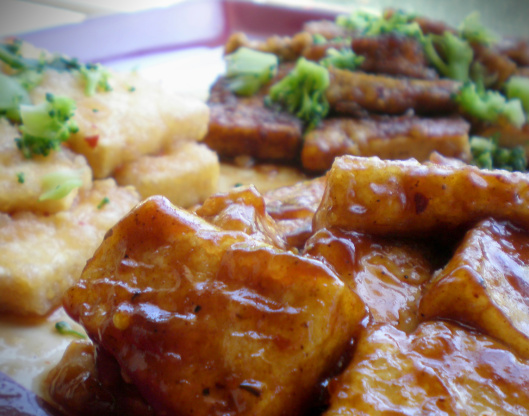 Derived from Robbie Rice's "Hooter's Buffalo Wings". I've been a vegetarian since my early teens, but to this day I still miss BBQ chicken and wings. Well, no longer!

I'm not leaving stars because it may have been my prep, but I didn't care for this at all. This was a barbecue dish first of all, and not a buffalo flavored one. I thought maybe it would be something that it's not because of the name, but I should have gone with my instincts. All the extra seasonings in this just tasted bitter with my barbecue sauce, which was a homemade low carb sauce I have made many times before with good results. Sorry, but I wasn't able to finish this. Next time if I want buffalo tofu I'll just use real buffalo style sauces. Thanks anyway.
Drain the tofu, and then remove excess moisture by cutting it in half lengthwise and microwaving on high, uncovered, for two minutes. Gently squeeze out and wipe off excess moisture, then throw tofu in the freezer for one or two hours before removing to thaw in the fridge -- this will give the tofu a slightly heavier texture.
Cut tofu into bite-sized pieces and place in a lidded, flat-bottomed dish to marinade. Combine hot sauce, barbecue sauce, black pepper, and garlic powder in a small bowl. Pour half this mixture over the tofu; reserve the other half for later.
Let tofu sit in the refrigerator for at least 30 minutes. Drain any excess marinade from tofu into reserved bowl of sauce. Combine flour, salt, cayenne and paprika in a bowl. Coat tofu with flour mixture.
Heat oil over medium-high heat in a large frying pan. Fry tofu (in batches, if need be) until all sides are golden brown and oil has cooked out. Add remaining sauce mixture to pan, stirring until tofu is well-coated. Serve with ranch or bleu cheese dressing for dipping.