Tofu and Noodle Salad With Peanut Sauce
Rita1652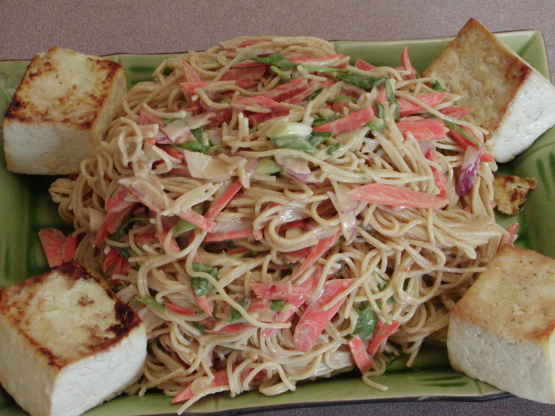 This is just really yummy! A terrific after-work, summertime meal. I found this one in the Daily Herald and they attribute it to John Ash. I find the noodles, radish and pea shoots in my local Oriental grocery store. Prep time doesn't include marinading time.

This was so good that even DH liked it a lot, and he's not fond of tofu! I'd rate it 5 stars, but somehow the tofu turned out terribly dry. Not sure if I did something wrong - maybe I should have added some oil? I'll make this again and then use some oil on the tofu so that it doesn't dry out.<br/>Thanks for sharing a yummy recipe!<br/>Made for Healthy Choices Tag Game.
Slice the tofu into 4 equal pieces; combine the soy sauce, mirin and ginger; marinate the tofu in this mixture in the fridge for at least 30 minutes and up to 4 hours, turning it occasionally; remove it from the marinade and gently wipe off any solids.
Heat oven to 400°; lightly oil a baking sheet and arrange tofu on it and bake for 20-25 minutes; remove and set aside.
Sauce: Combine sauce ingredients in a blender and blend until smooth, it should have the consistency of heavy cream; you can do this ahead of time and store in the fridge for up to 5 days then bring to room temperature before using.
Bring a large pot of lightly salted water to a boil and cook the soba noodles until al dente, 4 minutes or so; drain the noodles and rinse them very well with cold water; place in a bowl and toss with the radish, pea shoots and carrots along with about half of the peanut sauce, or more as you desire.
Divide the mixture among 4 plates or shallow bowls and top with the pieces of tofu and drizzle with a bit more of the sauce.
For Vegetarian use the water not the chicken broth.