jc.dwyer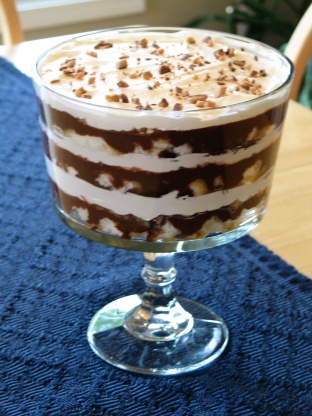 I wanted to use my new trifle dish but couldn't find a recipe that suited what I was craving so I made up this recipe. Our company loved it!

You have just given me a reason to FINALLy use my trifle bowl. Chocolate or yellow or white cake I actually think I also would substitute for the angelfood cake-but this sounds and looks really yummy!!! Will try and let ya know also!!!
Prepare angel food cake as directed and cool.
Prepare instant pudding as directed and chill.
Cut angel food cake into thirds. Take one third and tear into pieces that are about ½ to 1 inch in diameter. Place the torn pieces in the bottom of a trifle dish.
Drizzle 3 Tbsp chocolate syrup over the torn cake pieces. Drizzle 3 Tbsp caramel syrup over the torn cake pieces.
Spread one third of the chocolate pudding over the cake layer.
Sprinkle ¼ cup toffee bits over the pudding. Sprinkle ¼ cup chopped pecans over the pudding.
Spread one third of the cool whip over the toffee and nuts.
Repeat the layer two more times. Sprinkle the last cool whip layer with 2 Tbsp toffee bits.