Toffee Topped Fudgy Brownies
fawn512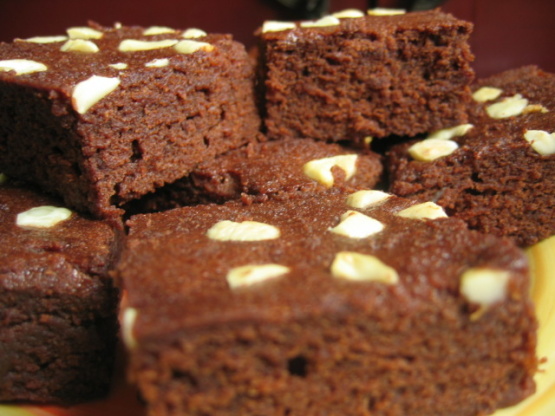 This recipe came off of the bag of Bit o"Brickle and it is definately a "keeper". It is very rich, so a little goes a long way. It is wonderful for pot lucks or finger food type gatherings. Cut into small pieces and place on a pretty platter on top of a paper doily and you have a beautiful presentation.

Top Review by nnreq
OMG! These are the fudgiest brownies that I have ever tasted and the addition of the toffee pieces and mini chocolate chips made them heavenly. These are a snap to make and even easier to eat up. Thanks for the best brownies I have ever tasted!
Heat oven to 350 degrees.
Grease 13x9x2 baking dish.
Melt butter in saucepan over low heat.
Remove from heat; stir in sugar and vanilla.
Set aside.
Measure and sift dry ingredients in large bowl.
Beat eggs and add to butter mixture.
Pour over into dry ingredients and mix just until blended.
Pour into prepared pan.
Sprinkle top with Bit O'Brickle and Mini Chocolate Chips.
Bake 35 minutes.