truebrit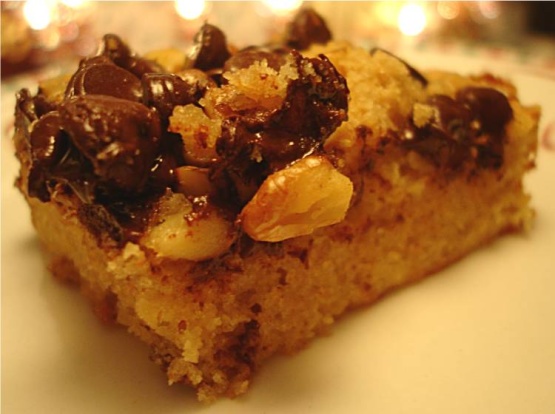 "Serve these luscious after-school treats with a tall, cold glass of milk." From Great Ameican Home baking

Good stuff! I took a batch of these to serve after our church Nativity, and they went down a treat! The bars were of a cake-like consistency, and somewhat crumbly on top. I omitted the coconut, as our pastor is allergic to it, but they were delicious nonetheless! (Mine took only 30 minutes to bake.) Thanks for posting!
Preheat oven to 350°F.
Lightly grease a 9 x 13" baking pan; set aside.
In a large mixing bowl, mix together the brown sugar and flour.
Using a pastry cutter or two knives, cut in butter until mixture resembles coarse crumbs.
Remove 1 cup of mixture and set aside.
To mixture in large bowl, add baking powder and salt.
Using a fork, lightly beat in vanilla, milk and egg.
Continue beating until a smooth batter forms.
Pour batter into prepared baking pan.
In a small bowl, combine the chocolate chips and walnuts.
Fold in the coconut.
Sprinkle reserved crumb mixture over top of batter in pan.
Sprinkle with the chocolate chips and walnuts.
Using a long flat spatula, spread topping evenly over the top of the batter in pan.
Bake bars for 35 minutes, or until a skewer inserted in center comes out clean.
Transfer pan to wire rack.
Cool bars in pan completely before slicing.
Using a serrated knife, cut into 24 bars.
Store in airtight container for up to 5 days.