Pam-I-Am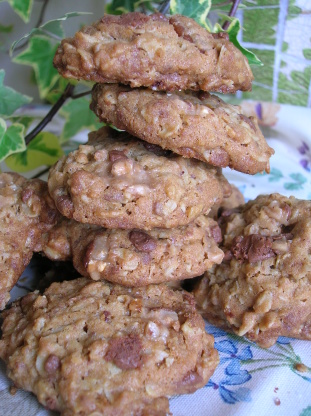 WOW! I made these and EVERYONE who ate them only had one single thing to say..UMMMM!! I have never had a response as great as I did after I made these for anything. The recipe as is made enough for a bunch of people. Tonight my son tricked me into making 100!!! He claimed it was for a bake sale. I will gladly takesome of these to work and delight everyone. Be careful though, they are addicting!! P.S Let them sit a few min. after taking them out of the oven and let them set before taking them off of the baking sheet or they will crumble. (Would be great on ice cream). hey sort of melt together so i am just going to cut them into squares.
Preheat oven to 300°.
Line cookie sheets with parchment paper.
In medium bowl, cream butter and brown sugar.
Stir in egg and vanilla extract until smooth.
Sift together flour, salt and baking soda; stir this into the other mixture.
Blend in oats and toffee bits.
Drop rounded tablespoonfuls onto cookie sheets; flatten slightly.
Bake 10-18 minutes in the preheated oven.
Cookies will look dry when finished baked.